OBHR Students in the News
National Human Resources Case Competition 2018
The finals for the National Human Resources Case Competition 2018 was held on 10 February, at KPMG City House. SMU's team did us proud in this annual inter-tertiary competition.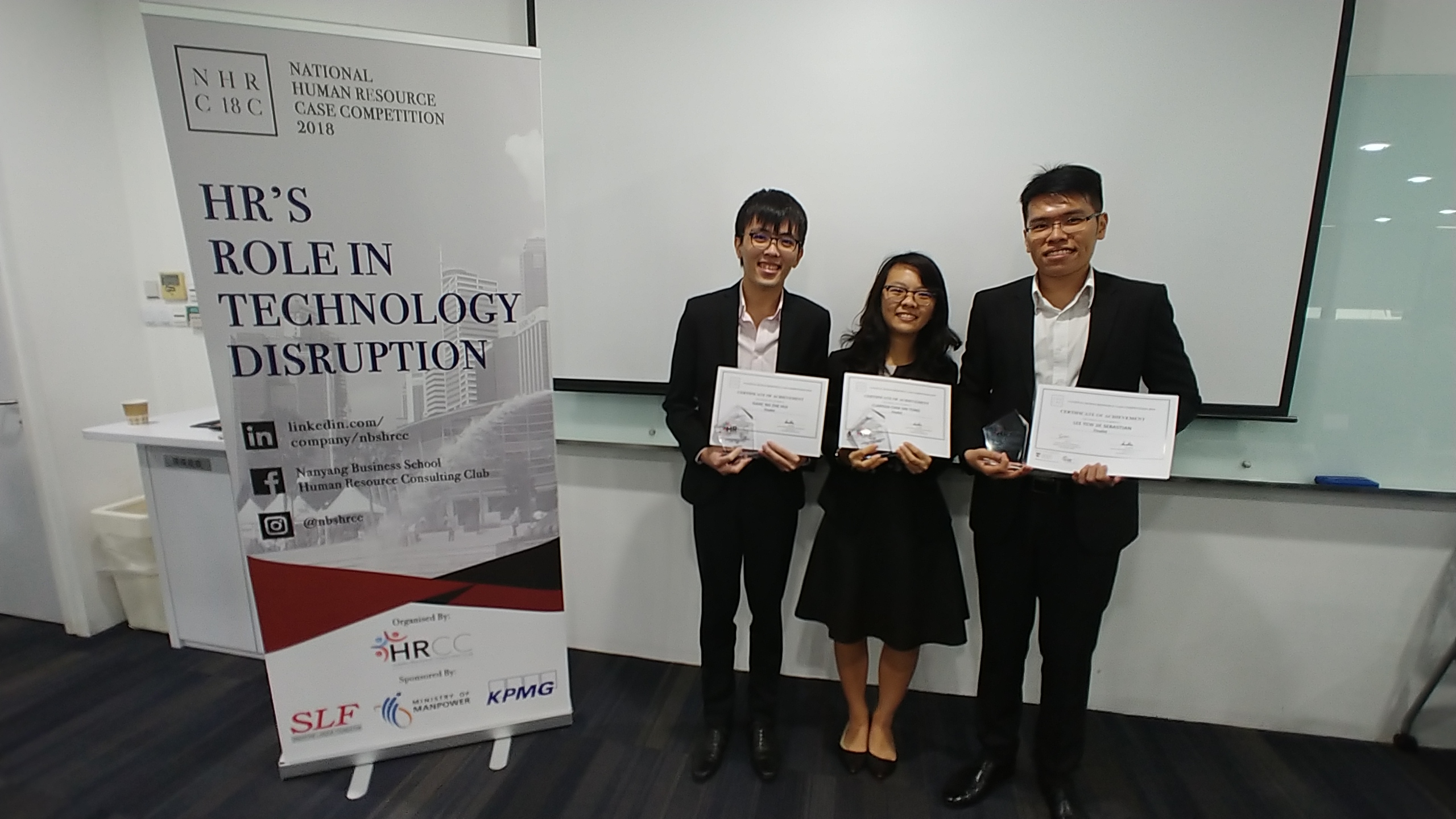 The winning team from SMU: (L-R) Isaac Ng Zhe Hui, Clarissa Chia Sin Tong, Lee Yew Jie Sebastian.
National Human Resources Case Competition 2017
The finals for the National Human Resources Case Competition 2017 was held on 11 March, at NTU. This event was sponsored by the Ministry of Manpower. SMU's teams did very well and clinched 1st and 3rd positions. The teams were exclusively made up of business school students and members of the winning team were all OBHR majors.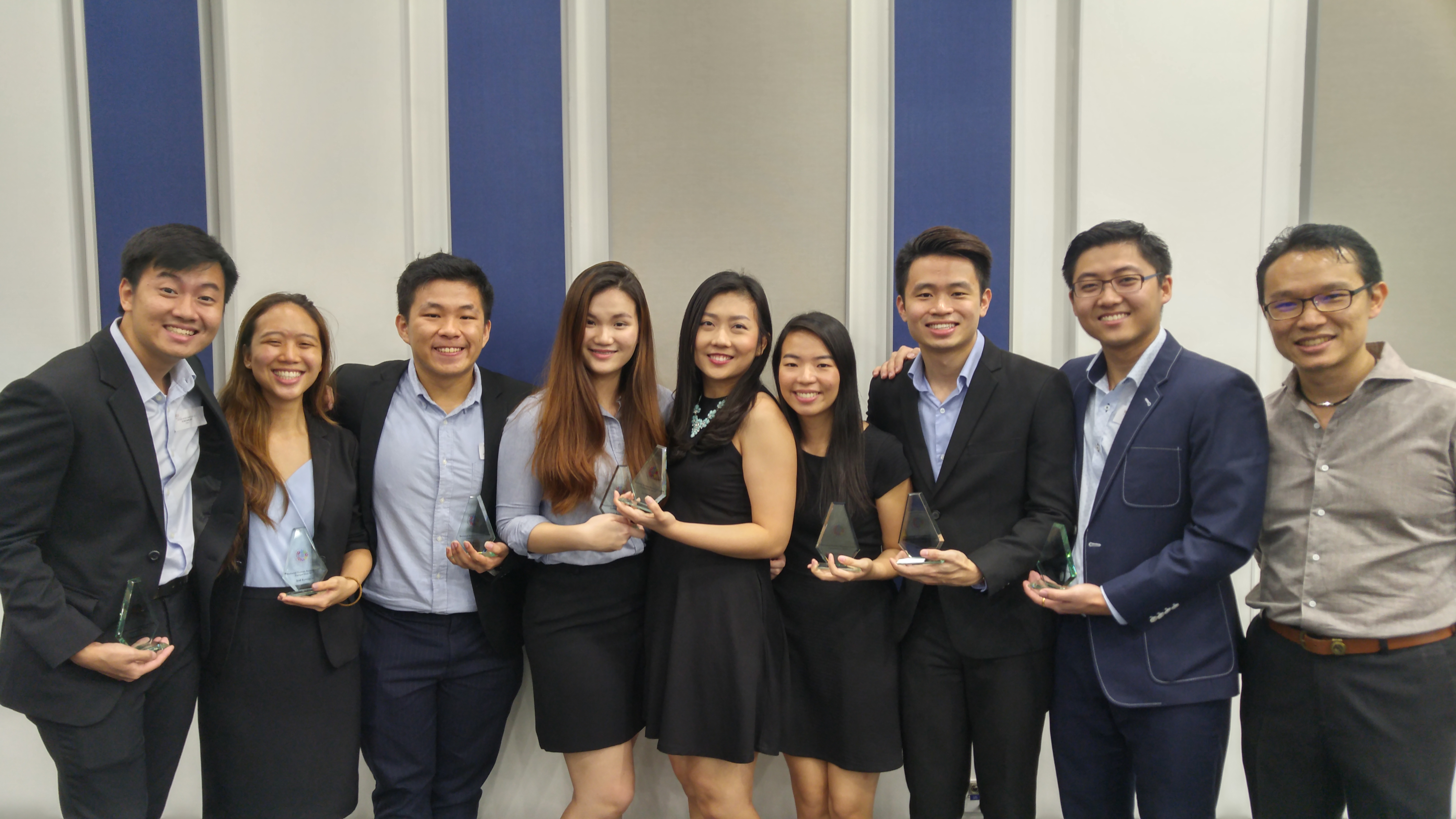 HR's next generation looks ahead - SMU Inter-Tertiary HR Symposium 2017
More than 300 HR students and professionals turned out for the annual Inter-Tertiary HR Symposium in Singapore on March 4. With the theme of "Inspiring the Future Generations of HR Practitioners", the free-admission event sought to expose HR aspirants at thje tertiary level to real world HR issues that might not be taught in school.
HRM Asia, March 2017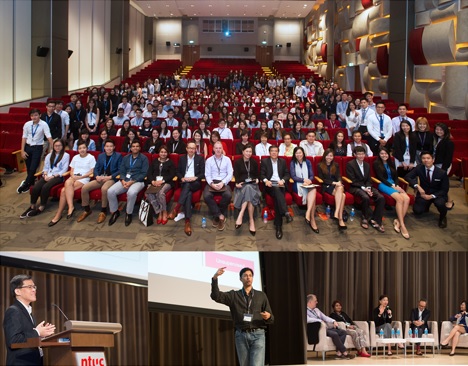 HR from the classroom
SMU School of Social Sciences undergraduate Amanda Tan Jia Qi shared her career aspirations in an interview. She is interested in venturing into the field of human resources and hopes to specialise in human resource consulting. Amanda also shared her views on the benefits of having multicultural teams.
HRM Asia, June 2015


Using total rewards as an driver of engagement and performance
In a commentary, SMU Lee Kong Chian School of Business third-year student Ong Chuon Yan wrote that the proper implementation of a robust total rewards strategy has the potential to bring out the best from each different group of employees, increasing their productivity and driving performance in the process. However, he also highlighted that two key challenges that companies should address in order to implement such a strategy is identifying the gaps of the current strategy and recognising the importance of effective communication.
HRM Asia, April 2015


Is HR Analytics the next big thing?
In a commentary, SMU School of Information Systems final-year student Joey Zeng Ying, with a second major in Organisational Behaviour and Human Resources, noted that analytics opens up huge opportunities for the human resources (HR) sector and that more companies will be investing in analytics in the next two year. Two benefits of this that she mentioned is that it enables better assessment of the company's "HR health" by looking at data such as employee surveys and workforce data, and that it delivers strategic insights that give decision-makers the information needed to act.
HRM Asia, January 2015


HR: Watchman of the organisation
In a commentary, SMU third-year business student Anton Chan drew the comparison between the role of the ancient watchman and the role of HR in organisations today. He is of the opinion that, like the watchmen, the key trait required of HR personal is to be vigilant at all times, and never complacent, as the role is vital in sustaining the life of the organisation.
HRM Asia, August 2014
What do HR students want?
They are the future torchbearers for HR in Asia. HRM speaks to university students
specialising in HR as they prepare to embark on a HR career.
HRM Asia, August 2014
Last updated on 15 Feb 2018 .